Have you ever looked at your list of prioritized projects and felt like something is missing? Despite having used a solid and structured prioritization methodology that takes into account cost, benefits and risk of implementation, you may well have forgotten a key decision criterion: ability to deliver a better customer experience.
The benefit of a positive customer experience on the bottom line has been documented many times in recent years, (see the HBR article: "The Value of Customer Experience, Quantified"). That customers who had the best experiences spend significantly more compared to those who had the poorest past experience has been proven repeatedly.
Start with a visual of your customer journey
So how can we take customer experience into account when prioritizing initiatives? First you will need to have a customer journey map of your target customer experience. If your organization has already gone through this exercise – great! If not, you may want to do so internally after following a workshop course on the subject. Or you may want to hire a consultant to help you.
One common critical success factor in all customer journey maps is the identification of Moments of Truth. They are the instances where the long-term relationship between an organization and its customers can change significantly — for better or for worse. The way a customer is dealt with when trying to return a defective product would be a moment of truth for most companies.
Quantify your decision criteria
Now let's see how we can pull the list of potential initiatives, the customer journey map and the moments of truth together. We'll take an example of an industrial machinery manufacturer who has identified twelve potential projects. Each project has already been scored from 1 to 5 for Business Value and for Feasibility and is positioned accordingly in the chart shown.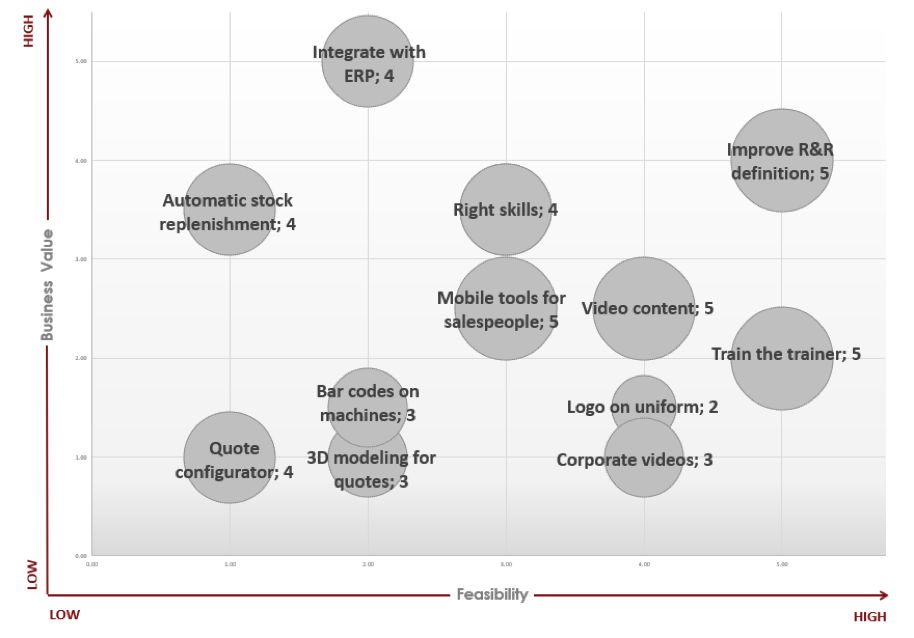 We can see in our example that integrating each machine with the ERP will bring a lot of value but is low on feasibility due to the high cost (top left quadrant). On the other hand, asking all field staff to wear a uniform will be quite feasible but will have a relatively low impact on the bottom line (bottom right). Quick wins are the projects positioned in the top right quadrant.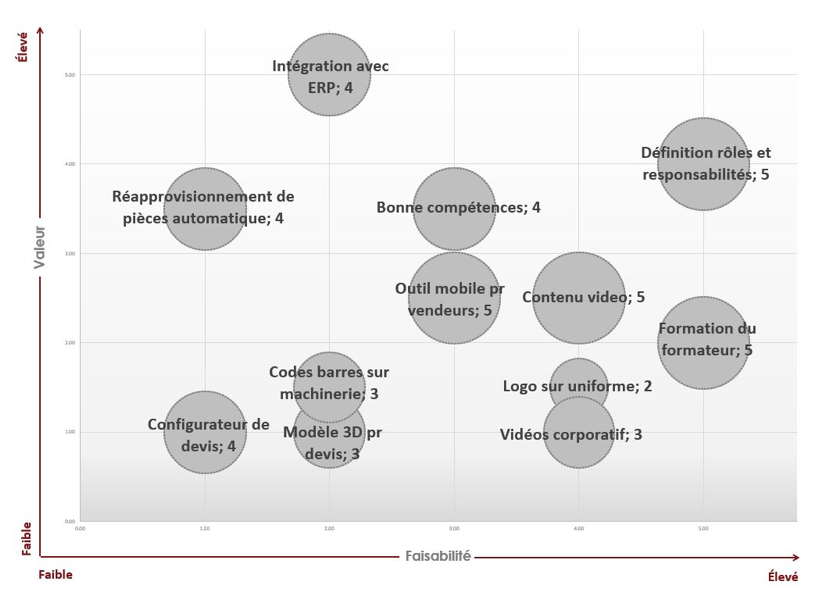 Decide what initiatives to prioritize
We then give each initiative a score for impact on customer experience, from 1 (negative or no impact on positive experience) to 5 (significant impact on customer experience during a moment of truth). In our chart, the customer experience score is represented by the size of the bubble. For example, "Mobile tools for salespeople" was given a score of five because it greatly improves the initial sales meeting, which is a Moment of Truth when selling industrial machinery. We can review the chart to see if a project that might not normally have made the cut in terms of prioritization should be given a higher priority due to the potential positive impact on customer experience, or vice versa.
In an ideal world, we would be able to quantify customer experience and bring it into the calculation of business value. However, we aren't yet able to convert a percentage improvement in customer experience to a dollar value with a high degree of accuracy. And until we do get there (if we ever do), we will just have to get by with alternative techniques for taking customer experience into account such, as the one shown here. We owe it to our customers to try!
Share This Article
More than ever before – during these last few months with the pandemic disrupting networks and consumer behaviours – supply chains have been challenged. The weakest links from supplier to customer were tested, and [...]
An Enterprise Resource Planning (ERP) system touches many different parts of the business such as R&D, Finance, Supply Chain, Sales & Marketing and HR so choosing the right one is very important. Most ERP [...]
Image from the Government of Canada. When developing a new product or solution, an often forgotten element is that a technology's ascent to success strongly depends on its adoption and utilization. The Covid-19 Alert App [...]